EXHIBIT A POWERFUL IMPRESSION
840,000 square feet of flexible exhibition space, occupying six full city blocks. 150 trade shows and special events per year. 35,000 companies exhibited. With numbers like these, it's easy to see why advertising at the Javits Center represents a truly exceptional opportunity.
The facility is one of the few venues in the Northeast that puts your product or service front and center among 3 million annual visitors. So if you haven't considered advertising with us before, think of the facility that generates $1.5 billion in economic activity for New York. If that's the kind of exposure you want, look no further than the Marketplace for the World.
Listed below are advertising opportunities that are currently available, along with information on who to contact for additional details.
Outdoor Digital Billboard
Generating an average of 86,000 daily impressions, the Javits Marquee offers exclusive access to the head-turning, 640 square-foot (22 x 30) full-motion, double-sided LED Display located on 11th Avenue just before the entrance to the Lincoln Tunnel.
Gary Grossman, Senior Vice President
OUTFRONT Media
212.297.6499
gary.grossman@outfrontmedia.com
Javits Center Video Network
Advertising on the Javits Video Network enables you to deliver your message to all corners of the Javits Center through an array of state-of-the-art video monitors
The network utilizes a 600 square-foot full-motion, full-color LED Video Display Screen centrally located in the Crystal Palace and 70 flat screens strategically placed on the 4 levels of the Javits Center.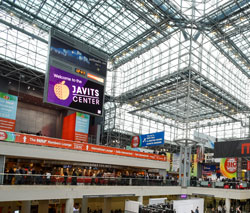 Doreen Guerin, Senior Vice President, Sales & Marketing
212.216.2103
dguerin@javitscenter.com