JACOB K. JAVITS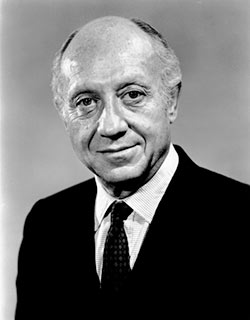 The Javits Center is named after Jacob Koeppel Javits, who served New York for more than 30 years as New York State Attorney General, a U.S. Congressman and U.S. Senator. As a liberal Republican, Senator Javits was known as the outspoken maverick of his time who worked closely with both Democrats and Republicans in order to pass meaningful legislation that improved the lives of Americans and moved the country forward. Throughout his years of public service, he was deeply committed to social issues, supporting President Lyndon Johnson's civil rights measures, as well as foreign affairs and the country's involvement in the Vietnam War. Senator Javits helped to create the National Endowment for the Arts and sponsored the 1973 War Powers Act that limited the President's ability to send military forces into combat without the approval of Congress.
The son of a janitor, Senator Javits was born on May 18, 1904, and raised in a tenement on the Lower East Side of Manhattan. In 1920, he graduated from George Washington High School where he served as president of his class. He attended night school at Columbia University, then went to New York University Law School where he earned his Juris Doctor degree. in 1926. He and his brother, Benjamin, formed their own law firm specializing in bankruptcy and stockholder suits, and in 1947, he married Marian Ann Boris, with whom he had three children, Joshua, Carla and Joy.
In 1942, Senator Javits was commissioned as an officer in the U.S. Army's Chemical Warfare Department where he reached the rank of lieutenant colonel. In 1946, he won a seat in the U.S. House of Representatives representing the 21st Congressional District (Upper West Side), the same freshman class as John F. Kennedy and Richard Nixon. He served until 1954 when he defeated Franklin Delano Roosevelt, Jr. to become New York State Attorney General. Two years later, he defeated New York City Mayor Robert Wagner, Jr. and was elected to the U.S. Senate. He held that seat until 1981.
On March 7, 1986, Senator Javits died of amyotrophic lateral sclerosis, or Lou Gehrig's disease, in West Palm Beach, Florida, at 81 years of age. Nearly one month later, New York's largest convention center on Manhattan's West Side first opened its doors, and thanks to then-Governor Mario Cuomo, the building was aptly named after Senator Javits due to his support of public-private partnerships.
As the country's busiest convention center, the Javits Center is proud to continue Senator Javits' legacy of public service by hosting events that support New York's economy, creating jobs and business opportunities for New Yorkers. For more information about Senator Javits, please visit the Senator Jacob K. Javits Collection at Stony Brook University at www.stonybrook.edu.
Stay informed with the latest news from Javits Center's Market newsletter.
Please view the Javits Center brochure below: